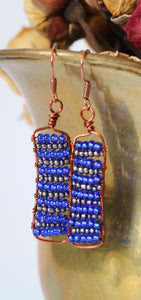 These beautiful rectangular earrings feature hand made wire wrapping with pure copper wire, along with royal blue and grey seed glass beads.
Approximate Size: 2 1/4 inches including the hook.

All earring components are nickel free and hypoallergenic
Wire wrapping is a genre of jewelry which requires pliable wire to be shaped into each piece. As a piece progresses, the wire hardens and is sometimes hammered to further strengthen a piece. It will retain its shape, however, if you try to bend it or it gets squished, it will bend. Do not place your wire wrapped jewelry in a purse or pocket.
Storage: Keep copper in a cool, dry place. If possible, store in an anti-tarnish pouch, box or cloth. If you have none of these, use a tightly sealed plastic bag to keep air from contacting the copper items.